Watercolor With Metallic Shimmer Sprays
Jennifer Rzasa, Debby Hughes, and Laura Bassen did so wonderful with this course that it was hard to pick one technique to go with. In the end I chose water coloring with shimmer sprays taught by Jennifer Rzasa since I have plenty of them and have yet to give them a good crafty work out.
I made two cards with this technique. The first is a representation of the peace rose in our garden. They start out this beautiful deep yellow then as they open, the petals become delicate pink and yellow. All of the roses on the bush can be in different shades of yellow and pink, it is one of my favorites.
My second card is based on dark purple hydrangeas, but sadly I don't have any in our garden yet. I used the same stamp set and watercolor technique for both flowers.
Peace Rose
With Ranger's Plum Archival ink, I stamped both flowers from Altenew's Fresh Cut Roses stamp set onto Altenew watercolor paper. For the flowers I chose Altenew Metallic Shimmer Ink Sprays in Warm Sunshine, Sunkissed and Frosty Pink; the leaves are Frayed Leaf and Lagoon.
I used a wet on wet technique and started by lightly wetting the petals of the flowers, then put drops of mica spray in the watery areas. I let it blend as it wanted to, only dabbing color up if it went into the leaves. I repeated this process for the leaves.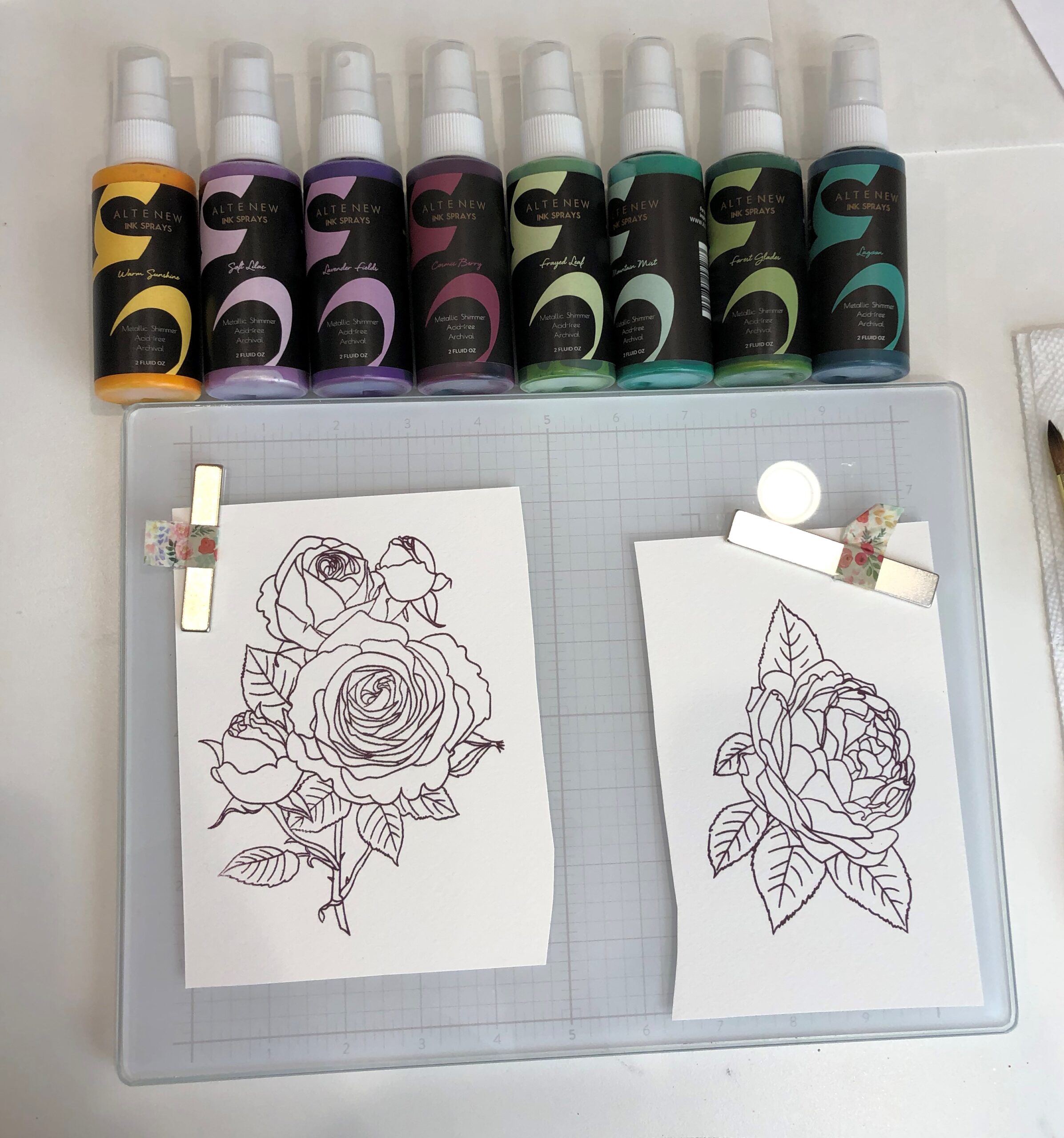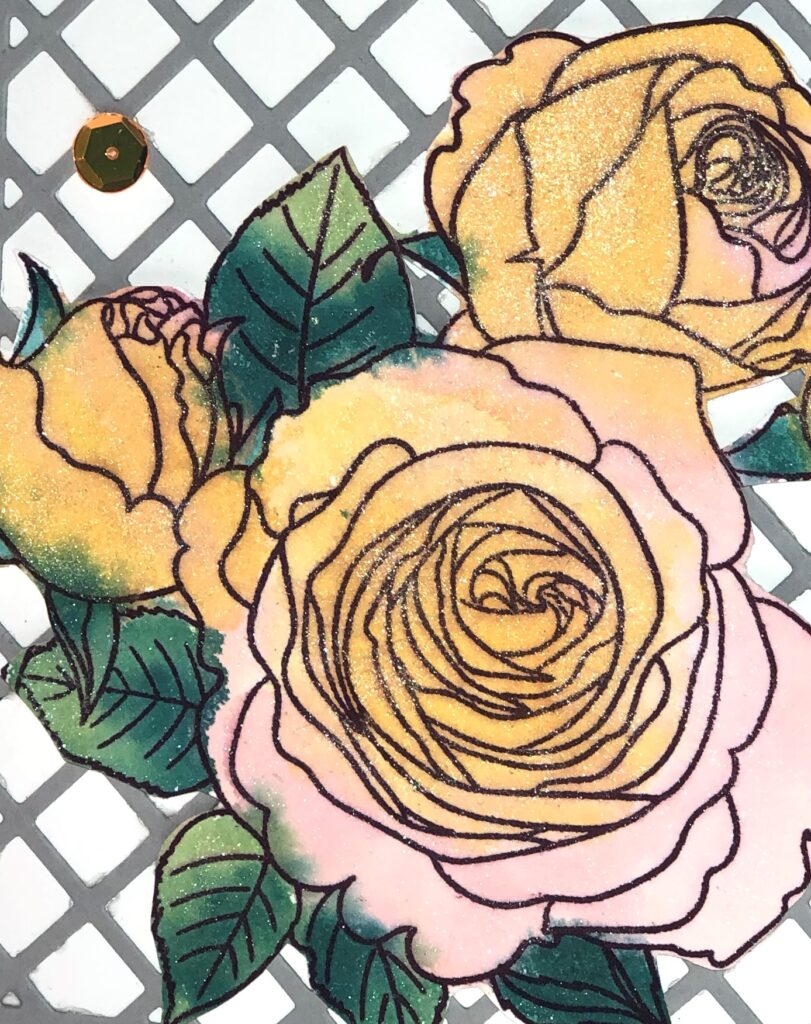 A lesson I learned while making this, was to make sure one area dried completely before starting the next. For example: if the flower petals are still wet (even a little), and you start coloring the leaves right next to them, the color from the leaves will blend into the flowers. In this card, I should have let the flowers dry longer. You also have to be careful when doing a wet on wet technique so as not to re-wet the petals when starting to color the leaves, as that can cause bleeding of color as well.
I don't have dies for this set, so I fussy-cut the flowers out. I used Altenew's Garden Trellis Cover Die and Smokey Slate cardstock by Stampn'Up for the trellis. The trellis was glued to white cardstock, of the same size, and then adhered to a Grapefruit Grove (Stampn'Up) card base.
I stamped the saying from Altenew's Bouquet of Love stamp set in black ink on white paper. The banners are Grapefruit Grove and teal cardstock. I used foam tape to adhere the roses to the base, then added some sequins for that much needed bling.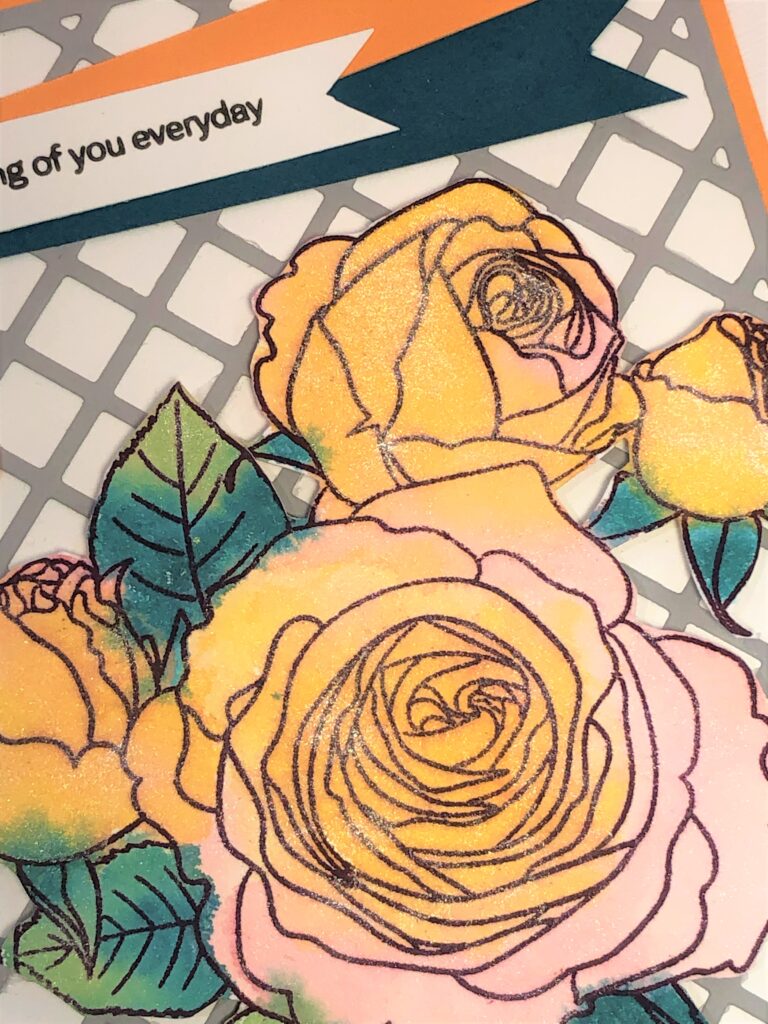 Purples!
My second card was a play on dark purple hydrangeas. They have dark purple outer petals and light purple inner ones. For the flowers I used Soft Lilac, Lavender Fields, and Cosmic Berry. The leaves are Mountain Mist and Forest Glades. The trellis was cut from white cardstock and mounted to Smokey Slate cardstock, then added to a card base made from Blackberry Bliss (all Stampn'Up cardstock).
The saying is from Altenew's Hawaiian Coral stamp set and is stamped on white paper with black ink. The banners are Blackberry Bliss and green cardstock. Some sequins from Picket Fence finish it off.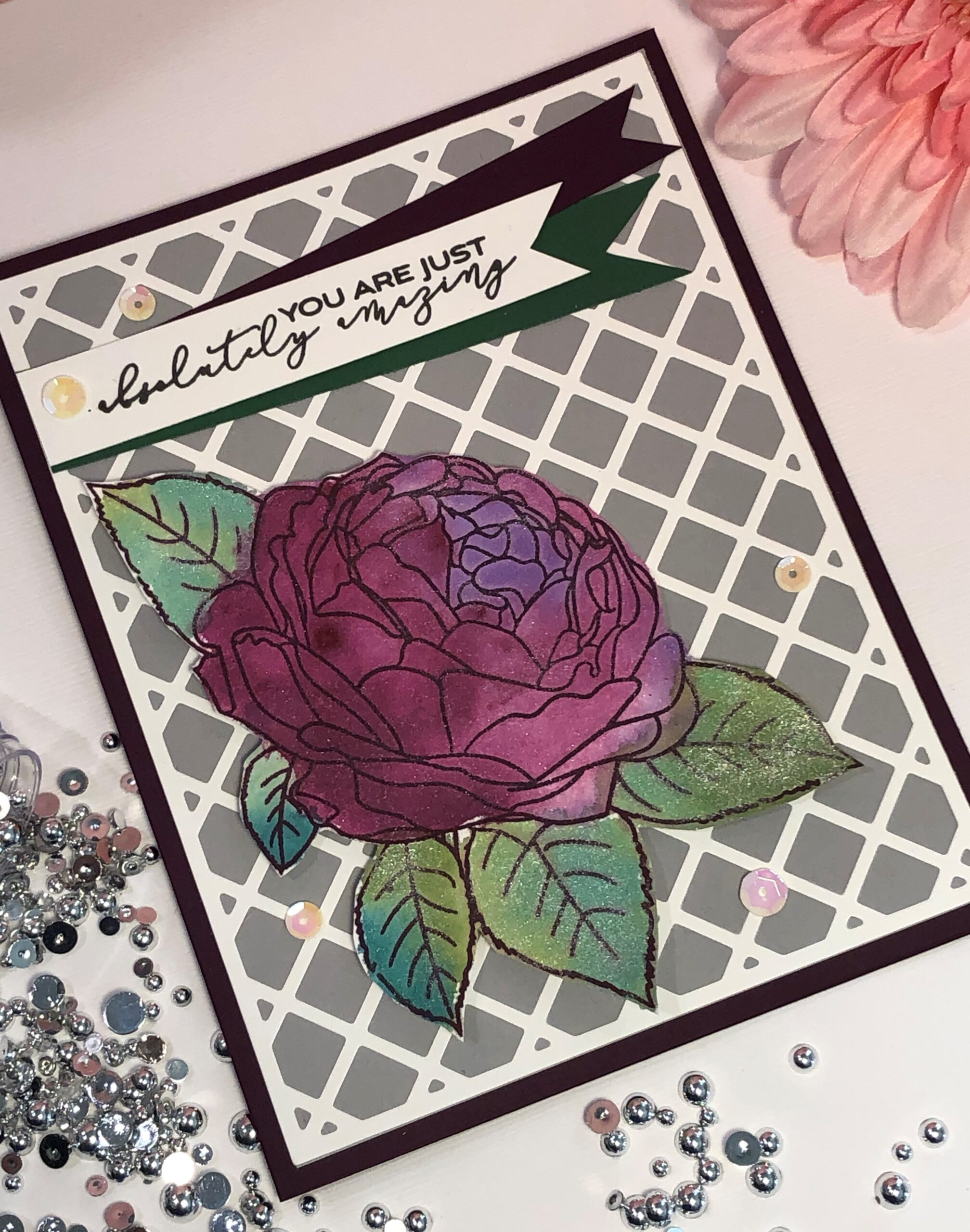 Thank you Ladies for a wonderful course! So many new techniques, hints and tricks to add to my growing crafty-know-how-to stash 🙂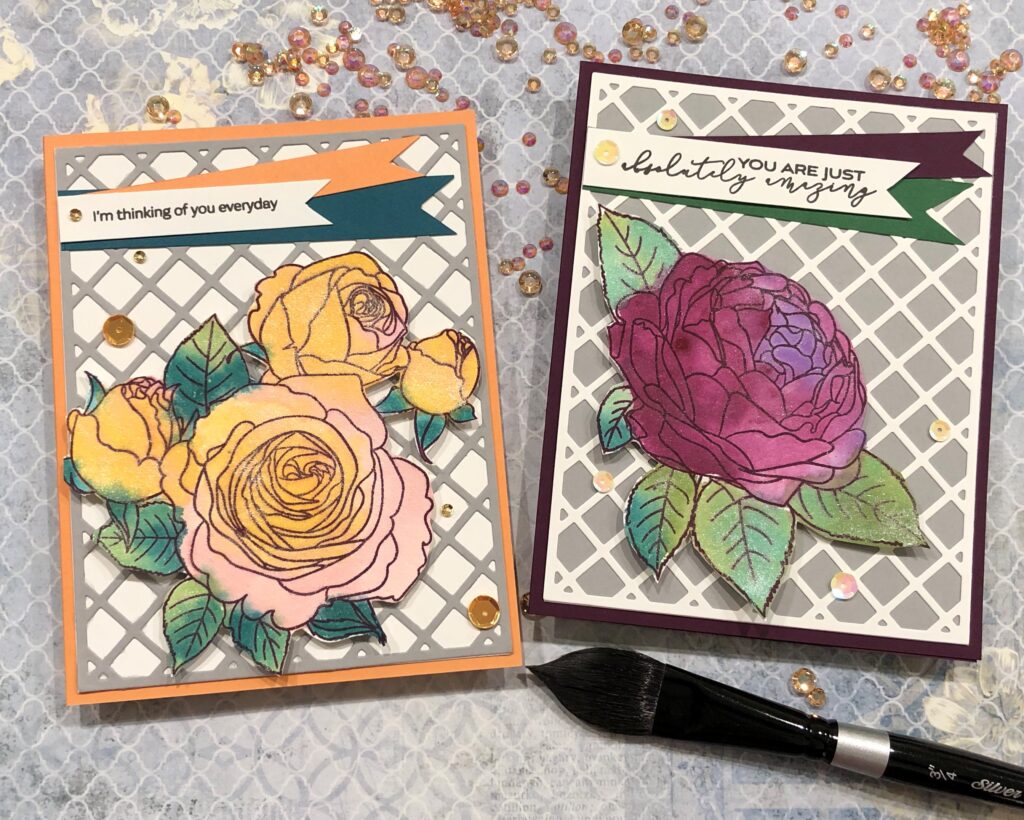 Thanks for stopping by and have a wonderful day! Carol