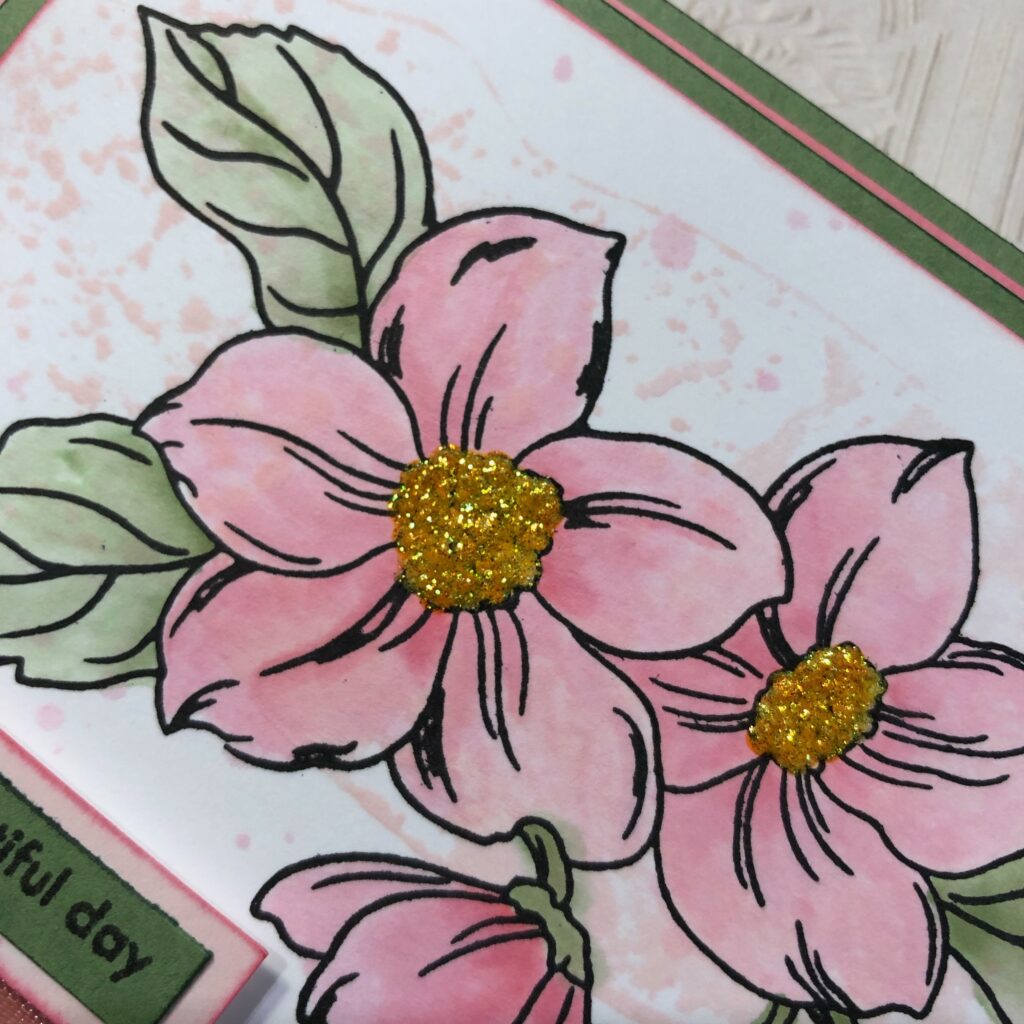 For my fourth submission to Altenew Educator Certification Program (AECP) I chose the Craft Your Life Project Kit: Hello Beautiful. I love these flowers; they look like hibiscus. I like the way they just flow… flowy flowers! 🙂 Sara Naumann taught some beautiful inking techniques in her class, "Irresistible Inking Techniques", and I just knew these flowy flowers would be good to showcase them.
I started by squishing some Frosty Pink Crisp Dye Ink onto a long, rectangular acrylic stamping block, then spritzed the ink with a small amount of water. I stamped this near the top edge of some Neenah 110lb card stock in Solar White trimmed to 5 1/2" by 4″. After drying, I stamped the flowers with Versafine Onyx Black Ink.
I smooshed Frosty Pink and Coral Berry Crisp Dye Inks onto my silicone mat, and spritzed a small amount of water near them. I used the water and the ink to paint the flowers. I did the same for the leaves using Frayed Leaf and Forest Glades Inks.
As I was coloring the flowers and leaves my paper started to buckle quite a bit. I probably used too much water when painting (which I tend to do) so next time I'll definitely use water color or mixed media paper. After drying I splattered the card with some watered-down Frosty Pink and Coral Berry and swiped the edges with Coral Berry ink. I wrapped a pink ribbon around the lower part of the card and secured it in the back.
For the large pink mat, I cut a piece of Neenah card stock to 6 1/4" by 4 3/4" and swiped Frosty Pink along the edges. I followed up with some Coral Berry swiped here and there, plus on the very edges of the paper. I inked the little pink mat for the saying the same way. As you can see below, I had stamped the saying directly onto the card. I thought it looked rather lack-luster, So I decided to make it separate and use mats to make it match with the rest of the card. I thought it looked much better, or "not-lacking-luster" if you will. 🙂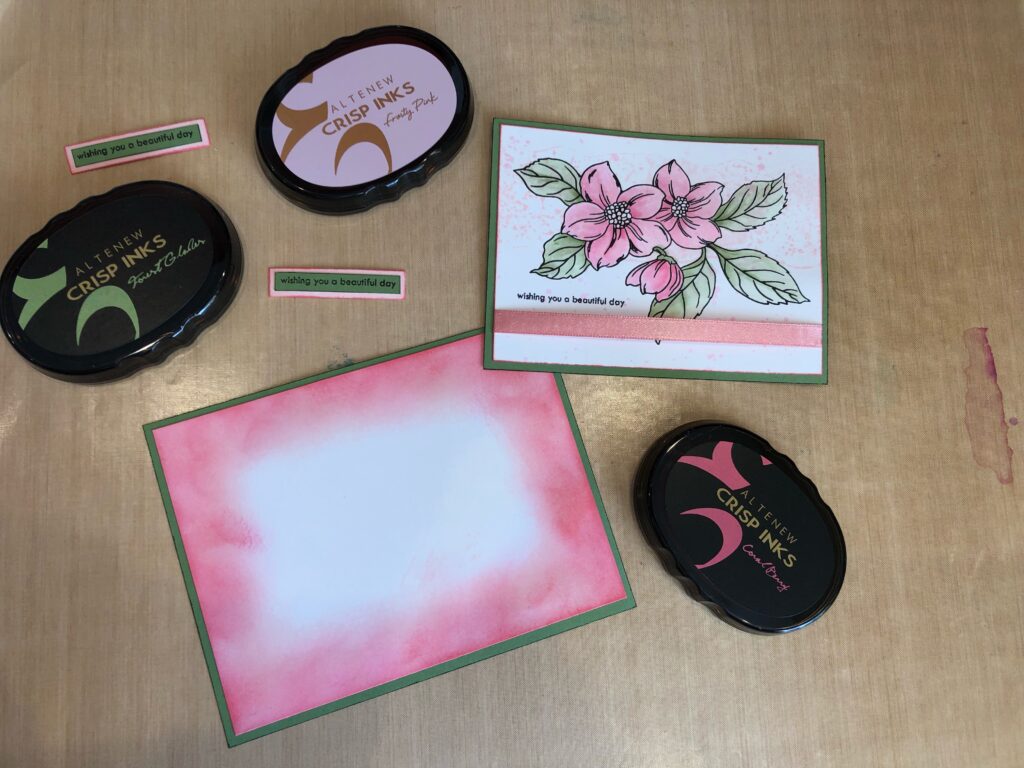 The green mats were cut from Stampin'Up Wild Wasabi card stock (5 3/4" by 4 1/4" and 6 1/2" by 5″). I swiped some Evergreen Crisp Dye Ink along the edges of the green mats to help them pop. The saying was stamped onto a scrap piece of Wild Wasabi card stock in Jet Black Ink.
I attached all the pieces to their respective mats with double sided tape. To give the card some depth, I used foam tape to stick on the focus piece and the saying.
The last step was to fill the center of the flowers in with yellow and orange Stickles from Ranger.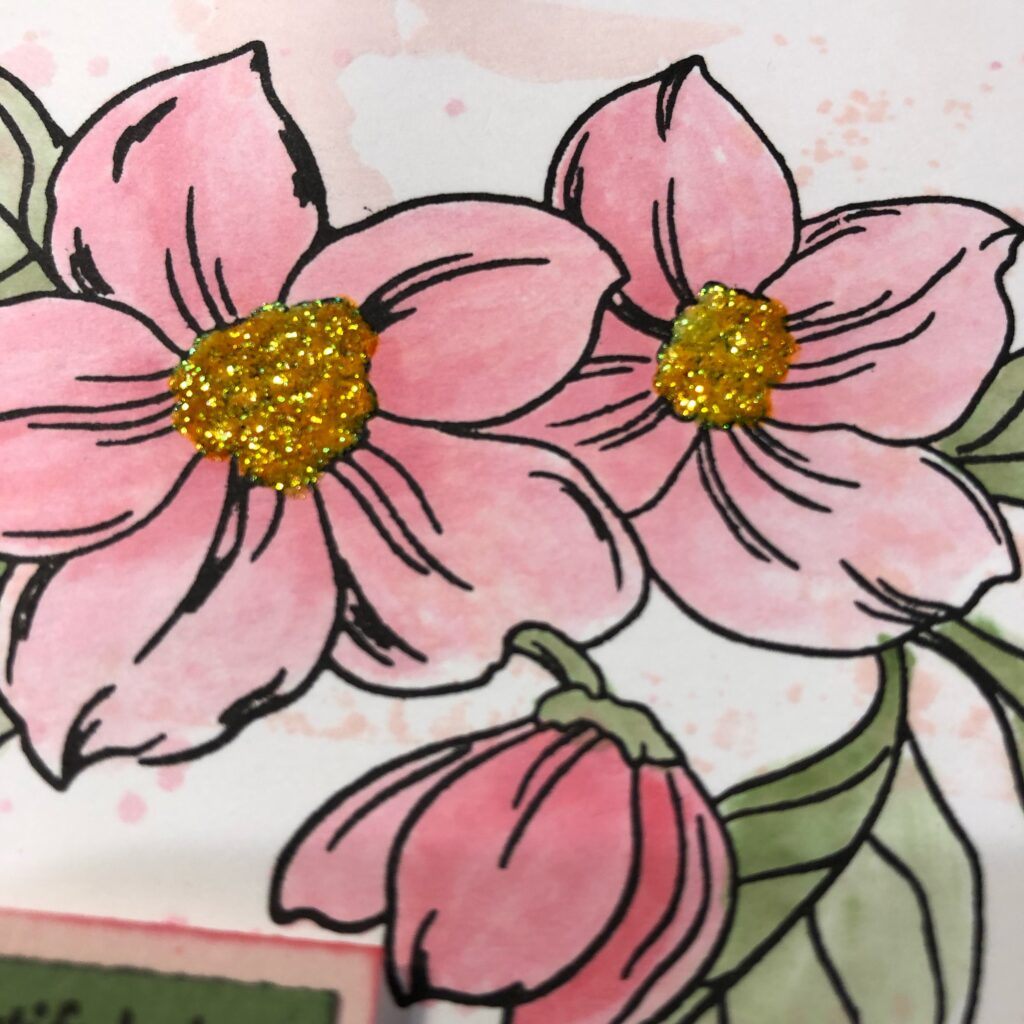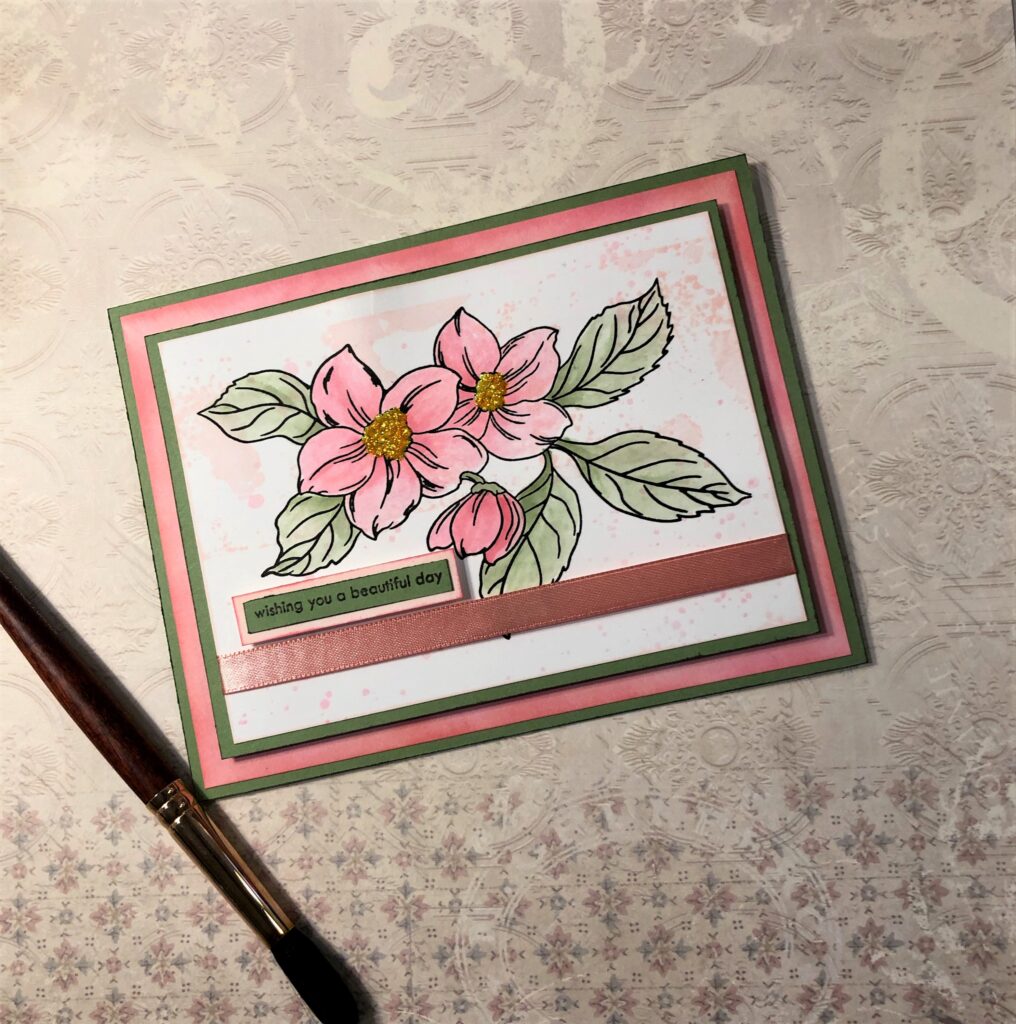 Thank you for stopping by and have a beautiful day!
Carol