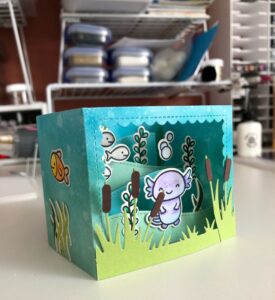 Card made for my boy — he's 26, but still my boy!
Lawn Fawn stamp and die sets I used:
I Like You (A LOTL)
Seahorsin' Around
You Are Sublime
Shadow Box
Shadow Box Ocean Add-On
Cattails
I had such fun making this card. My son got it and the first thing he said was "Awwwwwwww, it's so cute!!". Apparently I gave him my "I love all things cute gene", which I think is a good thing (he may not, but I do!).
I do love all the cute stamps and dies from Lawn Fawn… so many smiley faces 🙂 I am truly a sucker for all things cute so my Lawn Fawn stash keeps growing… and growing. It really is out of control now! I am currently playing with the Den Dies, Den Sweet Den, and S'more the Merrier stamp sets. I will post some pics of those when done.